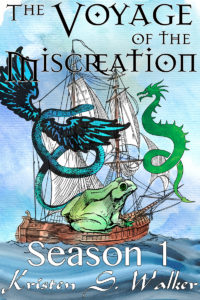 An epic fantasy serial with adventure on the high seas
Captain Mynta and her motley crew of monster hunters have fallen on hard times. To save her ship, she's agreed to escort Mage Ameyron and his team of researchers to capture some of Seirenia's deadliest monsters. To succeed, they'll have to work together—but everyone on board has something to hide, and one has a secret that could doom them all.
Also check out the related epic fantasy series, Wyld Magic.
The complete season 1 (episodes 1-6): Amazon, Smashwords, iTunes, Kobo, Nook, Google Play
Episode 1: "The Voyage Begins"
Captain Mynta welcomes the researcher mage on board her ship—only to find out that her newest client is more than she bargained for. Ameyron wants to get closer to his subjects than even a seasoned monster hunter would dare. Tensions rise between crew and passengers who question the captain's leadership. But when a dangerous sea serpent lurks beneath the ocean waves, Mynta must discover which one of them is also a traitor before time runs out.
Episode 1: The Voyage Begins, FREE: mAmazon, Smashwords, iTunes, Kobo, Nook, Google Play
Episode 2: "The Trouble with Fangfrogs"
Captain Mynta and the other monster hunters have their first monster hunt with Mage Ameyron's research team: capturing venomous fangfrogs in the wetlands of a little island. The mage insists that he can keep live monsters safely confined in his newly-developed magical cages. But the crew is wary about having monsters on board—and the islanders aren't happy about their monsters leaving, after all. When things get complicated, Mynta must negotiate a deal that will satisfy everyone.
Episode 3: "The Sunken Forest"
Captain Mynta and her team of monster hunters follow a sailors' legend to the ship graveyard, so Mage Ameyron can investigate the mystery of why so many ships are floating abandoned in a strange forest of seaweed. Wyld Magic must be involved in some way. But when their search finds a survivor driven mad by the loss of his crew mates, they learn that monsters aren't all they have to fear out on the open sea. A haunting song means that time's run out, and when the ship is overrun by deadly mermaids, Mynta will once again be forced to make a difficult choice to save her people.
Episode 4: "Monster Menagerie"
Captain Mynta's crew is in for a party when Mage Ameyron gets a formal introduction to the duke who owns a private monster menagerie. Genara's used her family connections to pull some strings and gain access to the duke's secret methods of capturing and caging feathersnakes, and everyone's invited for what should be a peaceful evening of dancing and feasting with no dangerous monsters to fight. But the cost of that introduction may come too high when political tensions, personal problems, and a marriage proposal get in the way. Mynta must swallow her pride and play the diplomat to save the deal and the respect of her crew.
Episode 5: "The Egg Thieves"
Captain Mynta's crew has a simple mission: to capture as many feathersnakes as they can, using trusted hunting methods. There's no complicated politics, no venomous monsters to watch out for, and no mystery hanging over their heads, so the research team might finally have their first success. But when no one's willing to talk to each other, communication breaks down fast and everything goes wrong. Mynta must heal the rifts and get her team back on track before all of the snakes slip through their fingers.
Episode 6: "The Captain's Wife"
Captain Mynta's crew is surprised by a stowaway, Phi, who claims to be Mynta's wife from her mysterious past. Although Mage Ameyron fears trusting a stranger, Phi is accepted as a temporary crew member, and quickly wins over the crew by revealing secrets of the captain's past battles, much to Mynta's embarrassment. But when they discover that Phi has secrets of her own, the crew is suddenly thrown into a dangerous situation where they must fight to keep their ship, their captain, and even their own lives from the one threat they thought they'd never have to face.