Last week, I had the amazingly lucky chance to see the newest expansion to Disneyland: the Star Wars land, aka Galaxy's Edge. I wasn't planning to go so early, in fact, I thought it wouldn't be open yet when I booked this trip. (It was grad night for my son's high school and we decided to go with him.) But it turned out that it opened on the day of our trip… and since we were staying at one of the hotels, they gave us a reservation for the new land! With a chance like that, I had to check it out!
I decided to bring a little friend with me. This is Luciana, one of my dolls. She's a big fan of Star Wars, especially the new movies with Rey. I wanted to see what pictures I could get with her in them.
Our time slot was the first thing on Friday morning, the first day. 8 am to 12 pm since each group of people is only allowed to stay for four hours. This keeps the new area from getting too crowded. If you've ever been at Disney when they have something new, the lines are always very long. So it's nice that they're spreading it out. But it meant we had to check in two hours before our time, which was 6 am! So here's me and Luciana ready to go before the sun is even up.
The first step is getting into the park. We actually didn't get in until about 6:25. We got these special maps at the entrance. Most of the park was roped off. A special hallway behind Main Street was open so we could go directly to Tomorrowland and check in.
The check-in was at Star Wars Launch Bay in Tomorrowland. You can see a lot of people were already here. The bottom half of the line was for people who had reservations to get into Galaxy's Edge. The top floor was full of merchandise from the new area so even people who didn't have a reservation could get their hands on some new stuff before it sold out.
Here's the wrist band! The whole check-in was pretty quick and painless. We had a QR code on our phone to confirm our time slot and everyone had to have a photo ID. No chance to sneak in an extra guest.
We still had over an hour to wait until 8 am when the park (and Galaxy's Edge) opened. This huge crowd formed in front of the grill. It wasn't a very organized line.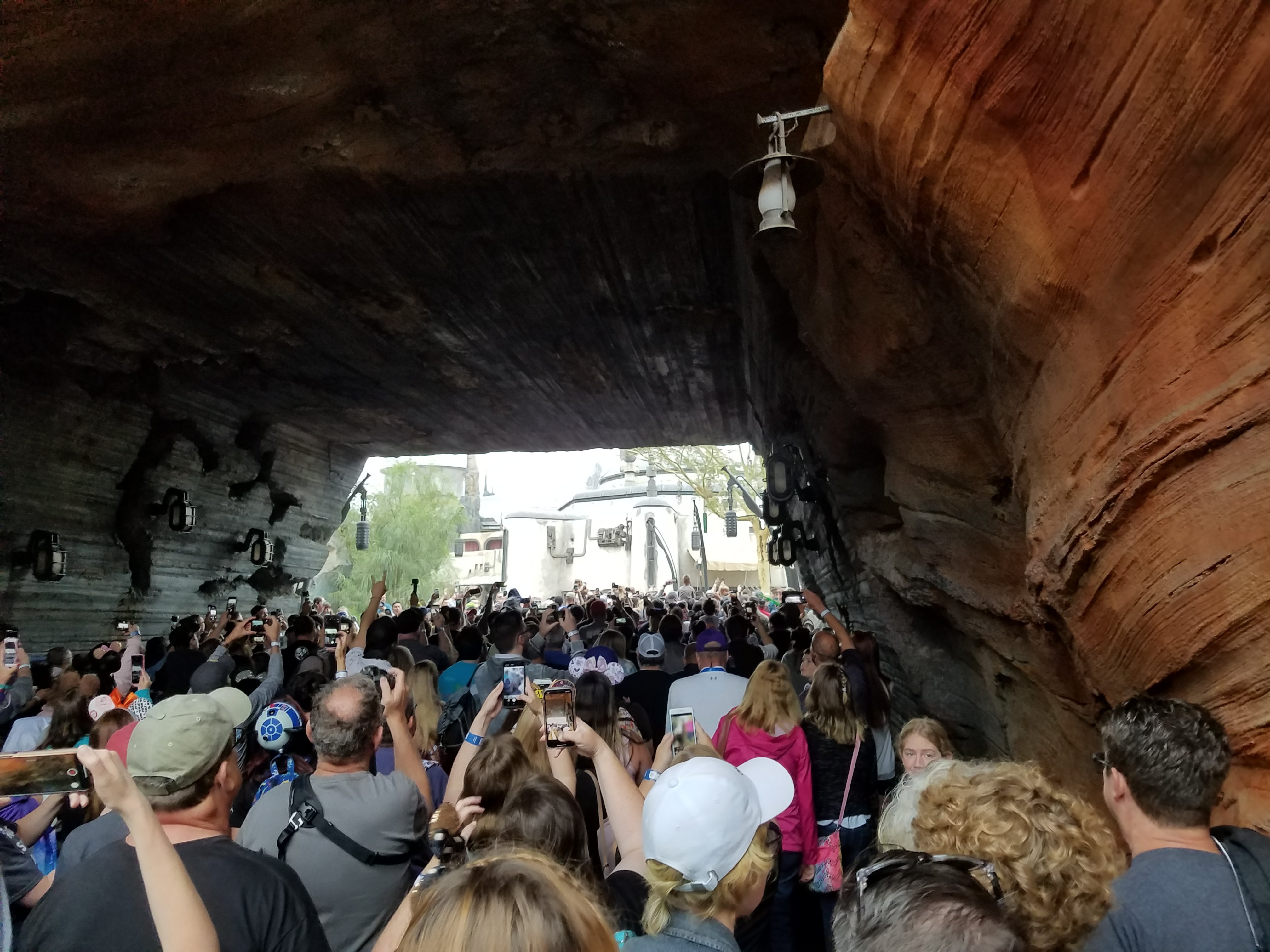 Then, just before 8, the cast members escorted us across the park to Frontierland, where we walked in the main entrance to Galaxy's Edge! You enter through a tunnel in the "rock" so it's very separated from the rest of Disneyland.
Each cast member in Galaxy's Edge has designed their own costume and character. They also stay in character the entire time. You won't see or hear the words "Star Wars" or "Disneyland" anywhere in the new land. You have to pretend that you're actually on the planet Batuu and use the local lingo. For example, you say good morning as "Bright Suns" and good-bye as "Till the Spire." And if you ask where the Millenium Falcon is, they pretend not to know what you're talking about! So if you're looking for the new ride, ask where you can find Hondo to sign up for a shipping crew.
The buildings and features are designed to block all outside views of Disneyland and the rest of Anaheim so you feel like you're on another planet.
So many details are around the area. With the app, you can translate the signs on the walls and interact with certain features like the droids.
The First Order is always watching. Later, Storm Troopers appeared on these walls. Storm Troopers also roam the streets and question citizens, so you have to watch your step. (When your time slot is ending, the Storm Troopers ask you to leave.)
More details. You can see the buildings have been aged and damaged, like with these blaster holes. Batuu isn't always a friendly place.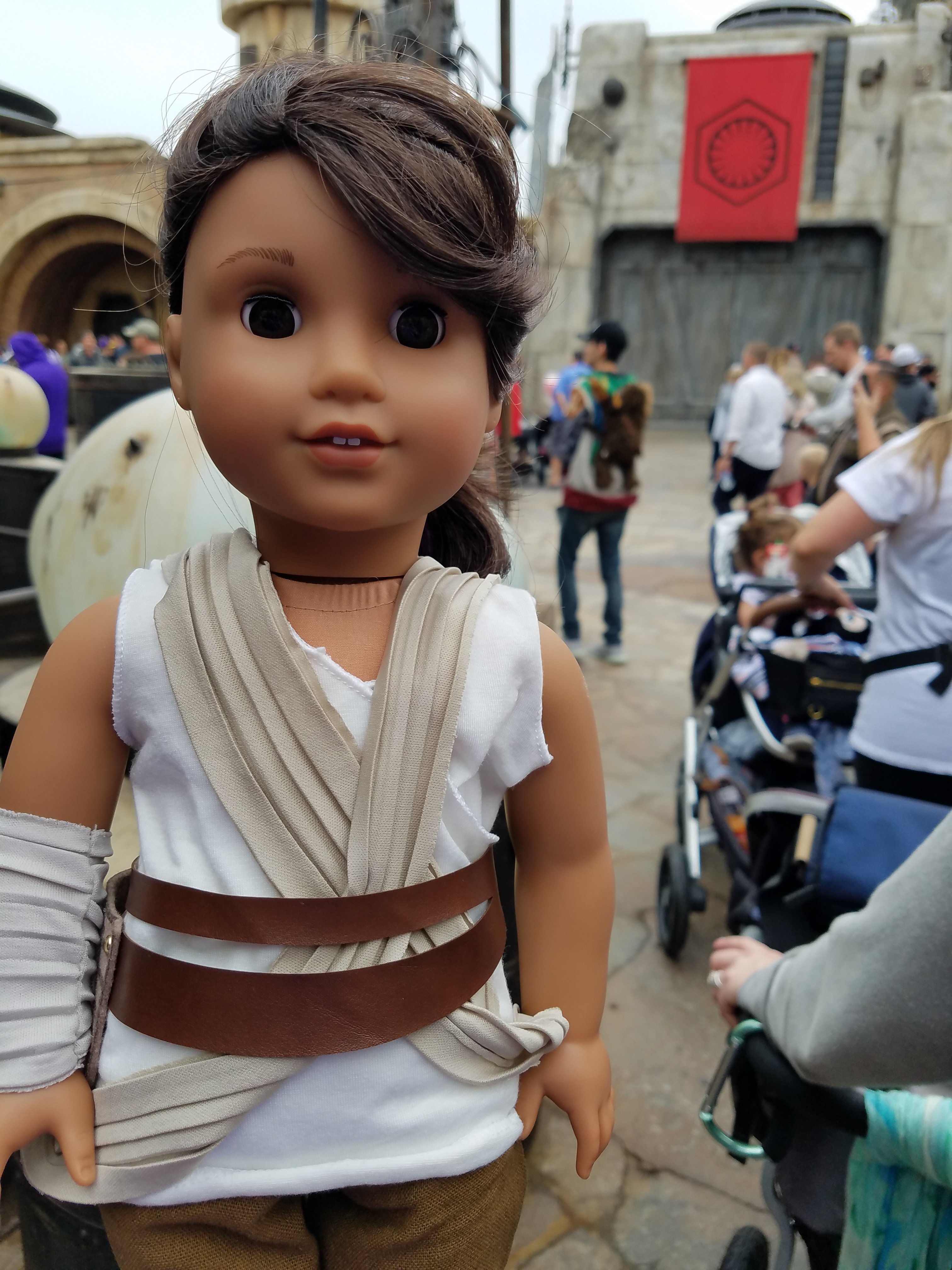 Luciana in front of the Milk Bar. (More on that later.)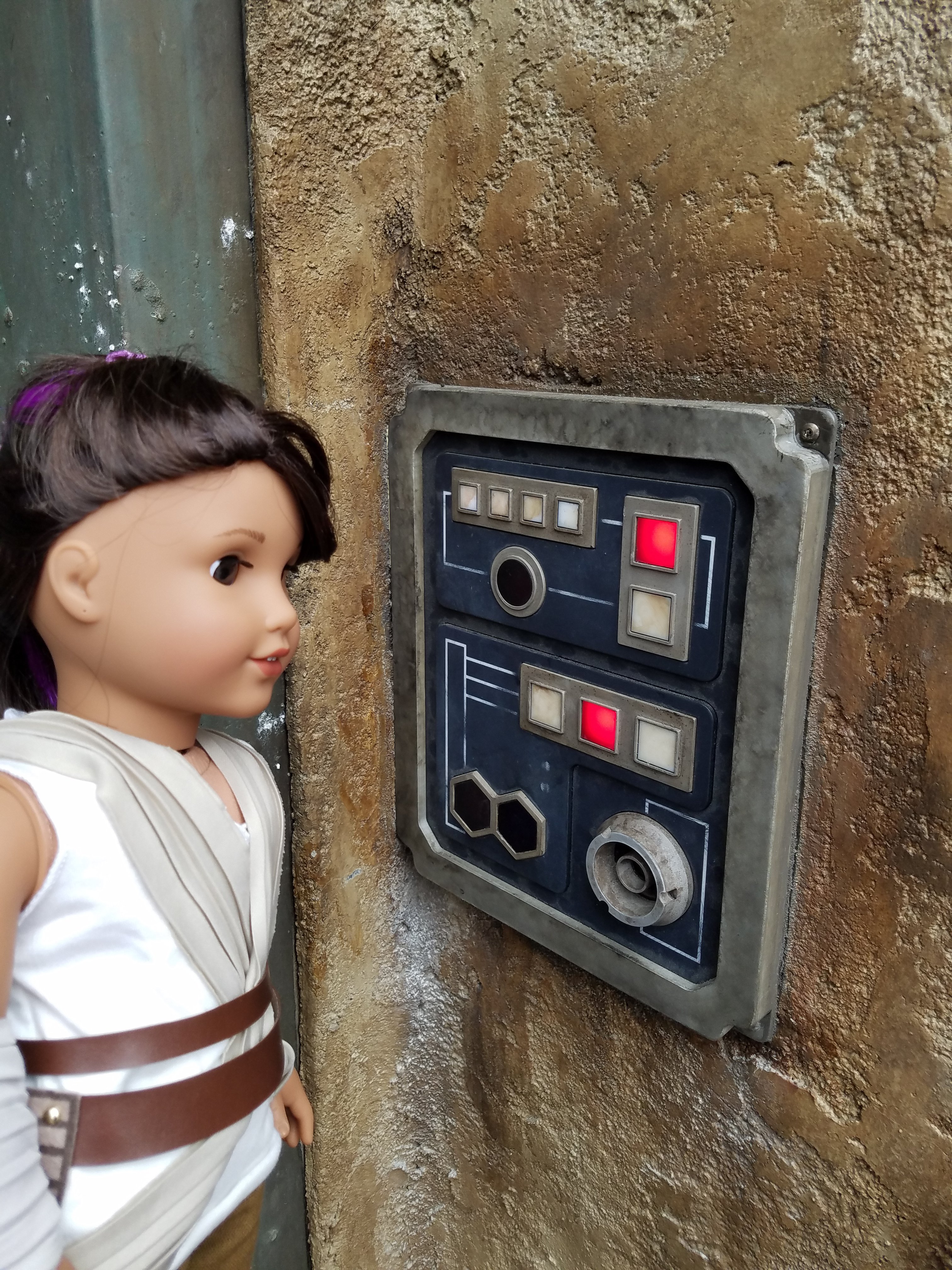 Luciana examining the panel on a door. We tried the buttons but couldn't get it to open. Not everything is available to interact with, but it's still cool to see details like these blinking lights.
And here's the Millenium Falcon outside of Smuggler's Run!
Luciana was really excited to see the iconic spaceship!
The beginning of the line for Smuggler's Run wraps around the Millenium Falcon so you can see the ship from every angle. Here we are near the back. There are noises and lights coming from the ship as you can hear a crew inside trying to make some repairs.
Inside the line is full of details, mostly junk and tools from spaceship repairs. It was hard to get any pictures inside the ride, but it was very fun. Six people go inside, assigned two each to different roles: pilot, gunner, and engineer. During the smuggling mission, the ride gives instructions on when the pilots steer the ship, the gunners fire at enemy ships, and the engineers make repairs. Everyone's performance is rated into a final score and then the group receives credits for the app.
I was the gunner and I only had 41% accuracy. I have to say it was hard to keep track of my job while also watching the screen because my buttons were on the side. But the 3d screen looked really cool. Normally, I get dizzy and/or headaches when I use 3d glasses on rides like Star Tours. The new screen for Smuggler's Run didn't give me any problems. And it felt a lot like I was really flying in the Millenium Falcon! I'm looking forward to doing this ride again.
After the ride, we went back to the Milk Bar to try the blue and green milk. It's plant-based milk (rice and coconut) so it's dairy-free, and since it's blended with ice, it's more like a slushy. Most people liked the blue milk but I found it more coconut-ty and that's not a flavor I like. I enjoyed the green but I can't figure out exactly what it tasted like.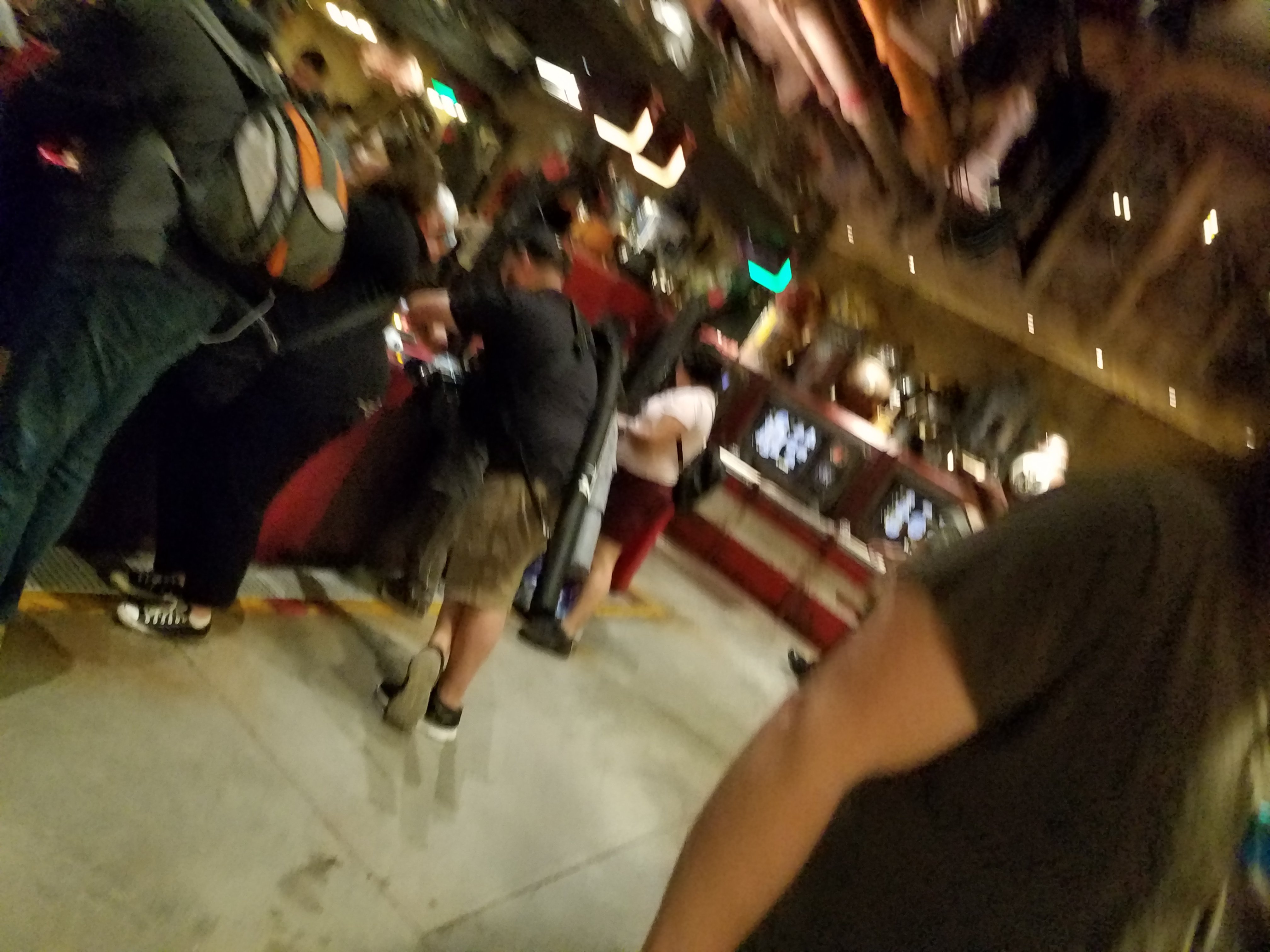 We also went inside and saw the Droid Workshop where you can build your own droid from a variety of parts. Basically, you make them similar in style to R2D2 or BB-8 but in different colors. They looked cute but there was a long line.
The rest of Galaxy's Edge was just as cool, but it was crowded and hard to get in anywhere even with the limited group. I wanted to see the Cantina but one look at the line looked like it was about two hours. We were also tired from getting up so early. So we looked around at the shops for a while until it was time to leave.
Overall, the new land is amazing in its detail. Not everything is finished and some parts feel empty. I want to go back when it's not so crowded and be able to enjoy the atmosphere, to explore the extra interactions with things like the app and find more of the story. But I recommend it to anyone who likes Star Wars (obviously) or wants to see a detailed science-fiction world.