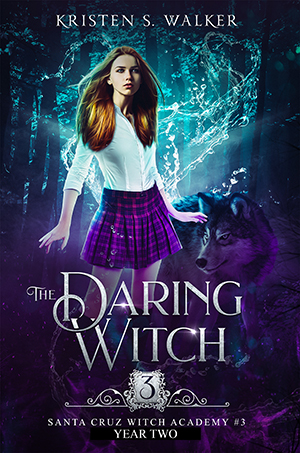 Title:
The Daring Witch: Year Two
Series:
Santa Cruz Witch Academy #

3
Published by:
Kristen S. Walker
Release Date:
January 11, 2021
Genre:
Fantasy, Urban Fantasy, Young Adult
ASIN:
B0899H3YNS
A young witch who is tired of playing by the rules. A half-wolf shifter who wants to be accepted by the other witches. Can they take on the school bullies?

Brie survived to her senior year at Santa Cruz Witch Academy and just wants to graduate so she can go to the art college of her dreams. But her new roommate is a transfer student who is not the average witch-in-training. Willow is part wolf shifter, so some people think she shouldn't be allowed to learn magic at all. Brie always had a soft spot for the underdog and she wants to help her new friend fit in.

But Willow is an easy target for the school bullies, Brie's old nemesis Samantha "The Queen B." and her Rich Witches. The constant harassment is too much for poor Willow and she threatens to drop out of school. It's time for Brie and her friends to take down these mean girls once and for all.

The challenge is to teach Samantha and her flunkies a lesson without getting caught. It'll take every underhanded trick and spell in the book. If Brie gets in trouble one more time, she will be expelled—and without graduating, she can't qualify for her license to practice witchcraft. With her powers on the line, she'll have to tread very carefully. And Samantha has been waiting for Brie to slip up.

Can Brie beat her rival without getting caught?
Add on Goodreads
Amazon
Also in this series: